Empire prides itself as being a full service printing company. We have established a solid reputation as a leader in meeting your finished needs. With a variety of printing methods, we have equally the cutting and finishing equipment to match your specific needs and desire finish product.

Our in-house die-making department reduces major downtimes, delivery, and extra markups. We use precision digital bending capabilities, built to a tolerance of +/-.01". Our steel rule dies are used in all of our clam shell presses, Preco, and hard tooling presses and can cut through a variety of thicknesses for through-cut or kiss-cutting needs. We have an abundance of stock dies available, or we can customize the design for a unique end product. We also sell our steel rule dies. Check out how to place an order here.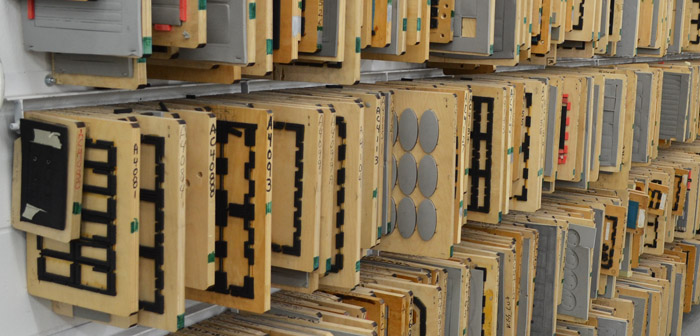 Our Preco cutting unit reads a dot for exacting cutting output. Cameras and sensors are used to line up and realign material as it comes off the roll and through the press, adjusting for any screen or material stretch. This press has the ability to through-cut and kiss-cut, as well as strips away excessive material, all in one step.

Digital lasers, routers, and i-cutters round out our finishing equipment, allowing flexibility to cut on a multitude of materials with minimal setup time.

Your finished parts can be finished in a variety of ways, such as through-cut individually, kiss-cut on a sheet, or left on a roll. Add a split back or a tab for easy removal of liner materials. Our goal is to make your label needs as easy and efficient as possible to finish off your branding needs.

Our diverse capabilities include:
Custom-built dies
Hard tooling
Mag dies
Digital cutting
Router cutting
Laser cutting
Stock dies
Barcoding
Serializing
Variable data
Hand-applied or screenable adhesive
Laminating
Premasking
Splitting
Grommets
Stitching
Kit assembly
What's "splitting"?
Have you ever found yourself peeling the back off a decal after several agonizing minutes of trying to pry it apart with your thumbnail?

It's pretty annoying. That's why the paper on the back of our decals is split. The back where the decal is stuck to is actually in two pieces, so you can easily peel them off and stick the decal where ever your little heart desires.